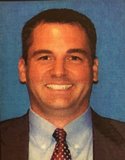 Brandon N. Olson, Principal
Welcome to West Elementary's website, we hope that you find everything that you need. Should you not be able to find something, please feel free to contact the office for further guidance and help.
Welcome Back!
We are so happy and delighted to see little children walking through the halls of West Elementary for the first time in nearly 6 months. It has been an interestingly long summer break for all of our children, but with all the time off comes a lot of academic regression. As a staff, we are going to do everything to help move your student toward success in every aspect of life, but this year - more than any other - we need to do this as a team. We need your help!
When your child comes home from school every day, we ask that you do the following to help your child become as successful as possible:
1.) Ask them if they had a good day at school. If they had any concerns, please discuss it with them. If we need to be aware of anything, please contact us.
2.) Ask them if they have any homework. Encourage them to sit at a table and work on it immediately. This will reinforce what they have covered in class and will not turn into a struggle later.
3.) Encourage them to read, or read with them. Please allocate at least 20 minutes per day for your student to read.
4.) Reinforce skills that they are ready know. This will make them feel good and create great muscle memory and fluency. Things like sight words, math flash cards, multiplication tables are wonderful things to quiz them on.
We are very happy to report that all of our students are doing very well within the walls of our school. We are sporting our new apparel, along with our newest edition - our masks. We are encouraging everyone in our school to wear masks at all times to help prevent the spread of germs. All staff members and all 3-5 students are required to wear masks, and we love seeing our little K-2 kids wearing them as well. Although we are wearing masks to prevent the spread of COVID-19, these masks will also potentially help prevent the spread of other germs like flu, strep throat, and even the common cold. Please make sure to wash masks and send one with your child every day.
Reminders:
1.) No matter the age, your child must wear a mask on the bus. They will also have assigned seats on the bus.
2.) Your child will have an assigned seat everywhere he/she goes to limit his/her exposure to others.
3.) No visitors are allowed in the building at any time per district policy.
4.) We are serving meals to our virtual learners between 12:00 - 12:30 pm every day in the back circle. You must sign up online to receive a meal. Please see the top of the home page for the link to sign up.
And lastly, thank you for entrusting us with your children for their schooling. We are honored to have each and every one of them. We promise to love them and treat them as if they were our own.
Around here we like to close with saying: "Dream It, Believe It, and Achieve It."
-Brandon