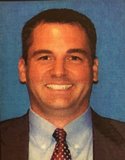 Brandon N. Olson, Principal
Welcome to West Elementary's website, we hope that you find everything that you need. Should you not be able to find something, please feel free to contact the office for further guidance and help.
Winter Break 2021
Please encourage your student(s) to do the following every day throughout the Holiday Break until we return to school on January 4, 2022:
(1) Read at least 30 minutes per day. This can be accomplished by parents reading to their children in lower grades.
(2) Do not neglect math! Have your students practice fluency in addition, subtraction, multiplication, division, fractions, decimals, place value, depending on grade. If you are unsure what is grade appropriate, please contact your teacher for help.
(2) Encourage your students to get on a computer and access any one of the many online academic portals (for example: ABC Mouse, Educational Galaxy, Zearn, MobyMax, IXL, Teach Your Monster to Read, etc.).
(3) Reach out to your student's teacher and ask for guidance. They are here to help! Email or ClassTag is the best method of communication - please access their correct email on this website, or use your Remind App or Class Dojo.
Dream It, Believe It, Achieve It,
-Brandon